Friends

, my section on vintage films does not have music and sound yet. So, I decided to make a musically aided (with audios - videos) post - please check links :)
This is in honour of Amirbai Karnataki Ji, a pioneer of Hindi film singing and especially playback singing. She was one of the earliest and most famous singers to

do

playback singing in films. She was a leading singer of 1930s and 1940s. Today, many of us may not be familiar with her work, but some songs may ring a bell, or well, for those far away from India, perhaps not. I hope that using this write up, I can familiarise my dear readers with this golden singer. Let us see the great work of this artist.
My sincere thanks to YouTube uploaders.
Amirbai Karnataki
The early years
Amirbai Karnataki was born Amirjaan around 1906 in a small town Bilagi of Bijapur district, in Karnataka, India. As her name suggests, the suffix of 'Karnataki' was quite a common practice in those days, that is artists had their native place as a suffix - this also helped differentiate between different persons with the same name. She belonged to a traditionally singing Muslim family, her father being a popular Tabla player, Hussain Khan. She had six sisters and a brother, and was the second eldest among them. So naturally, she had an interest for music since a very early age, and mastered Hindustani classical music soon.
She and one of her younger sisters, Gauhar worked with 'Vanivilas Naatak Company', a Kannada theatre troupe. Meanwhile finishing her matriculation at 15 years of age (they did that very early in those days, didn't they!), Amirjaan was already working with the ruling recording company, HMV. She soon became famous as 'Baby Amirjaan' for her classical and semi - classical, Ghazal, Thumri, Qawwali, Naat singing.
Two of her songs sung at an early age are: a Naat 'Darbar-E-Mohammed Par' and a Dadra (semi - classical form) of Raag Piloo. The Naat is sung very earnestly in her sweet, young voice, and in such a high pitch! The Dadra displays her absolute classical genius and perfection, to imagine such a girl of 10 showing so much classical prowess, so lovely.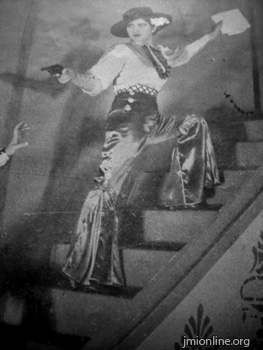 Gauhar Karnataki in Guru Ghantal (1937
)
Marathi stage singer Shankar Nilkanth Thapekar advised them to go to Bombay and join the film industry. In 1931, Indian sound films had begun with 'Alam Ara', thus giving many opportunities for good singing actors. Soon Gauhar became a popular singing star of 1930s. Around 1930s, Amirbai married famous villian actor Himalayawala.

Entry into the film world as a singing star
Amirjaan debuted in a bit singing role with 'Vishnu Bhakti' in 1934, but unfortunately neither the film nor its music took off successfully. But the producers had faith in her ability and she did several films more in 1930s as a singing star: 'Bharat Ki Beti', 'Yasmin' (both 1935), 'Fida - E - Watan', 'Prem Bandhan', 'Pratima' (1936).
It was probably in 'Pratima' that she gained prominence in films, her song 'Bhagya Ka Chakra Nit Chalta Hai', seems to have been popular. She started taking on leading roles probably in 1937 with 'Gentleman Daku', 'Dukhiyari' and 'Insaf', and in 1938, 'Zamana'.
Two of her songs from 'Zamana' were popular - 'Is Paap Ki Duniya Se' and 'Ae Dard Zara Dam Le'. Both are melodiously melancholic (!) songs, and have an interesting cycle of copying. The first song is an exact copy of the same song in 'Dukhiyari', which in turn, is a tune copy of the above mentioned Naat (remember? I guess it was so popular) and the second was re - orchestrated by popular 1940s' composer Pandit Gobindram in 'Ghar Ki Izzat'(1948) as a radio song.
The following year she did 'Baghi' (1939) and there ended her career as a singing heroine, since she was already 33 years old and that is by itself far too old for Hindi film heroines! :) She did important character singing roles in the following two years, 'Ek Hi Bhool', 'Hamara Desh', 'Narsi Bhagat', 'Sardar' and 'Vijay Kumar' in 1940 and in 1941, 'Darshan'.
Amirbai in Narsi Bhagat (1940)




Among these 'Narsi Bhagat' was truly famous. A film about the Gujarati religious poet played by famous singing star Vishnupant Pagnis (who was famous for such roles) and veteran actress Durga Khote who is better known for her elderly roles, and apparently sang for herself when she was young. The songs composed by Shankarrao Vyaas and sung by Amirbai, Vishnupant Pagnis and Durga Khote were very famous.
'Deen Dayal Sakal Dukhbhanjan' (by Amirbai), 'Jhulna Jhulave Nandlala' and 'Vaishnav Jan To' were sung by Amirbai and gained a lot of popularity. All were Bhajans sung with great artisticity and sweetness by Amirbai. But now, songs were mostly picturised on the leading pair, or some other young dancers/side artists, very rarely on middle - aged character actors. So roles were growing scarce for Amirbai.
Becoming

a playback singer
Playback singing in Indian films had begun in 1935 with the film 'Dhoop Chaon' by Parul Ghosh,

Suprova Sarkar and Harimati

, and gained popularity only since 1940. Thus Amirbai turned playback singer in 1941 with 'Mala' and 'Mere Saajan'. 'Mala' which was one of the earliest films of composer Naushad had 'Kaahe Barse Jaaye Badariya', a soothing, sweet, serenely sung and composed, melody by Amirbai which was probably sung for actress Daya Devi.
'Mere Saajan' with music by Vasant Kumar Nayadu and famous composer of the decade Hafiz Ali Khan Mastana had a duet with composer - singer Rafique Ghaznavi, 'Raatein Theen Chandni'. Rafique was an excellent and famous composer of that decade, and a very good singer too, he and Amirbai made a melodious duet pair.
In 1942, she sang playback for 'Baadal' (for heroine Urmila Devi), 'Choodiyan', 'Kalakar', 'Bolti Bulbul' and 'Basant' and sang - acted in 'Bharat Milap' and 'Station Master'. 'Bolti' Bulbul' had a beautiful duet, 'Shab-E-Visal Kaise Dil Ko Qarar Aaye', very well composed by K. C. Verma and wonderfully rendered by the duo of Amirbai and Rafique.
Amirbai Karnataki in Station Master (1942)
'Bharat Milap' was a famous religious film starring Prem Adib and Shobhana Samarth. Amirbai played a supporting role and sang two lovely duets with top 1940s male playback singer G. M. Durrani, 'Pehle Paanv Paharoon Prabhu Ji' and 'Aaye Raghuvir Aaye Ganga Ke Teer'. The songs were rendered with great skill and technique.
'Station Master' was another early Naushad film with Amirbai playing an elderly role. She sang 2 songs, a wedding song, 'Banni Tera Jhoola' with Rajkumari, one of her worthy contemporaries and Kaushalya, a singing star, and also 'Kabhi Na Himmat Haar Bande', an inspirational song that she has powerfully sung.
'Basant' was a very famous musical and Amirbai sang two songs, very coyly and mischeviously for second lead Pramila (first Miss India), 'Balam Dheere Bol' (with Arun Kumar) and 'Huwa Kya Qusoor'. The second song was very famous.
Around that time her husband Himalayawala was getting abusive and

was

torturing Amirbai, exploiting her by snatching

away her income

. Her elder sister Ahilyabai therefore helped her get divorce from him. Some time later, she married Badri Kanchanwala, editor of Gujarati magazine Paras.
Mumtaz Shanti in Qismat (1943)
Ruling the roost in playback singing
But it was in 1943 that Amirbai was rediscovered. That year came the all time blockbuster 'Qismat'. It is the second largest budget film, after 'Shol

ay

' (1975). Its leading pair was the acclaimed Ashok Kumar and Mumtaz Shanti. 'The father of modern Indian film music' Anil Biswas composed its songs, the lead singer being Amirbai. Its evergreen music is still listened to today, showcasing the outstanding vocals of Amirbai. The romantic soothing lullaby 'Dheere Dheere Aa Re' (Amirbai - Ashok ), the heart-rending 'Ab Tere Siwa Kaun Mera', the melancholic 'Ek Din Hansaye' (Amirbai - Arun), the intense 'Ghar Ghar Mein Diwali Hai' portraying first desperation, then frustration, then helplessness, and then happiness, the appealing patriotic 'Door Hato Ae Duniyawalon' all truly created history.
Mumtaz Shanti also became very popular, and indeed Amirbai was her original singing voice, and they gave many, many more classic films in the coming years. After the phenomenal success of this film, Amirbai became the most renowned and sought after playback singer in Hindi films. She sang for most of the then top music directors: Anil Biswas, Shankarrao Vyaas, Naushad, Hafiz Ali Khan Mastana, Pannalal Ghosh, Gyan Dutt, C. Ramchandra, Ghulam Mohammed, Rafique Ghaznavi, Vasant Desai, Khemchand Prakash, Feroze Nizami, Bulo C. Rani, Ustad Allahrakha Qureshi, Pandit Gobindram, Saraswati Devi, Shyam Sundar, S. D. Burman, Husnlal - Bhagatram, Rashid Attre and Roshan

,

among others.
She was the most favourite of Gyan Dutt and sang maximum number of her songs for him and maximum number of his songs were sung by her.
Being a top playback singer, she sang for most famous heroines: Mumtaz Shanti, Nargis, Leela Desai, Vanmala, Shamim Bano, Munawar Sultana, Veena, Neena, Swaranlata, Monica Desai, Kamla Chaterjee, Mehtab, Ratnamala, Savita Devi, Geeta Nizami, Rehana, Kamla Kotnis, Indumati, Madhubala and Ranjana.
She also sang with many great singers including K. L. Saigal, Surendra, Shanta Apte, Waheedan Bai, Rafique Ghaznavi, Arun Kumar, G. M. Durrani, Rajkumari, Parul Ghosh, Zohrabai, Hamida Bano, Khan Mastana, Naseem Akhtar, Zeenat Begum, Shamshad Begum, Kalyani, Lalita Deolkar, Binapani, young Moahmmed Rafi and Manna Dey, Talat Me

hmood

, Hemant Kumar, Feroze Dastur, Suraiya, Uma Devi, Geeta Dutt, Meena Kapoor, Asha and Lata Mangeshkars.
From acting to f

ocusing

on playback singing - a voice to suit many her

oines
The same year, 1943, she did only 2 more films as a singing star, 'Prithvi Vallabh' and 'Ram Rajya' to concentrate on playback singing. 'Prithvi Vallabh' was a classic historical of master filmmaker Sohrab Modi, Amirbai played a mendicant - singer Charini, and delightfully vocalised 'Hawa Ne Bandha', a war song boldly sung and 'Jeevan Ka Jug Aaya', a song encouraging the middle - aged leading pair to forget the world and continue their love.
'Ram Rajya' was yet another famous religious film, starring Prem - Shobhana, and the only film watched by Father Of The Indian Nation Mahatma Gandhiji in his lifetime. Amirbai played a Dhobi's (washerman) wife and sang a duet with classical genius Saraswati Rane, 'Aao Ri Suhagana'.
Thus began the golden period of playback career of Amirbai, for which she is best remembered. All actresses and composers of that period were very eager to work with her.
Th
e perfect voice
Amirbai had a very unique, heavy, powerful as well as sweet and very stable and pitch perfect voice. She was a maestro at classical music, was very adept at light classical film music and was unparalleled in her emoting of songs, be they melancholic, seductive, romantic, cheerful, patriotic, or vivacious.
She had a very elastic and malleable voice, with a huge range of notes and pitches, never sounding shrill. Her range was so large that no composer thought twice about

her ability to sing the highest note of a pitch. She did it with incomparable ease and grace. She was an extremely versatile singer, singing from Hindustani classical to Western popular-influenced to light music. She was one of the forem

ost choices for singing classical songs in films.
1943 also had her singing for 'Aankh Ki Sharm' (with some beautiful semi - classical pieces - here), 'Adab Arz', 'Aashirwad', 'Badalti Duniya', 'Bansari', 'Bhaktaraj', 'Koshish', 'Khanjarwali', 'Mera Khwab', 'Mohabbat Ki Jeet', 'Nagad Narayan', 'Najma', 'Panghat', 'Prem Sangeet', 'Rahgeer', 'Sawal', 'Shakuntala', 'Vish Kanya'. Popular songs from these films were:
Playback singing became quite widespread and popular, and several female playback stalwarts including Amirbai, like Zohrabai, Rajkumari, Shamshad Begum, Parul Ghosh, Naseem Akhtar, Zeenat Begum, Hamida Bano, Kalyanibai, and later Lalita Deolkar, Binapani Mukherjee, Mohantara and Surinder Kaur excelled in films. Each of these singers had a very unique and distinct voice.
Combination songs like duets are an absolute delight. The composers were extremely dedicated and the combination of singers and composers was simply unmatched. Here is a group photo!
From left to right: Zohrabai, Rajkumari, Amirbai, Hamida, Geeta, Lata, Meena Kapoor, Kishore, Durrani, Talat, Rafi, Mukesh, Dilip Dholakia, S D Batish, Sailesh
1944 - 1948: The glorious years of p

layback singing
1944 - 1948 were more glorious years in Amirbai's playback career. The senior

-

most among her peers, (most of them were in their 20s whereas she was almost 40) she was an ideal to other singers. Her voice sounds evergreen and young, truly for a heroine, one can hardly believe that she was 35 - 42 then. In 1944 she sang for 'Anban', 'Bade Nawab Saheb', 'Badi Baat', 'Bhanwara', 'Bharthari', 'Caravan', 'Geet', 'Ismat', 'Jeevan', 'Jwar Bhata', 'Kavita', 'Maa Baap', 'Mali', 'Pagli Duniya', 'Parbat Pe Apna Dera', 'Paristan', 'Police', 'Rattan' and 'Us Paar'.
Khemchand Prakash
The Musical Star
Amirbai had become so famous that there were films 'musically starring' her; In 'Caravan', 'Pagli Duniya' she sang 8 and 7 songs respectively! 'Bharthari' was a huge musical success, and had Amirbai singing for actress Mumtaz Shanti again, with excellent singing hero Surendra and also some beautiful classical melodies by 1930s singing star Kajjanbai. The music director was maestro Khemchand Prakash.
The songs had a strong classical base; 'Chanda Des Piya Ke Ja', 'Mora Dheere Se Ghoonghat' were lovely Thumris, 'Soona Mandir Mera' was Khayal - based, 'Bhiksha De De Maiyya' (with Surendra) became so famous that it is till date certainly played in any Bhartari festival. The first was a very high pitched Thumri sung outstandingly, and she once more sings the highest note in the second and fourth

songs.
Indo - Pakistani composer Feroze Nizami had Amirbai as his favourite female singer and she sang maximum number of songs in his pre - partition films,
'Iqrar Ke Parde Mein'
from 'Badi Baat' was quite a famous Ghazal.
Bulo C. Rani was also a very big fan of hers, and she was his leading voice i

n

several films from 1944 to 1950. Some more famous song that year were:
Blockbuster 'Rattan' brought composer Naushad among the top composers; and also made the lead singer Zohrabai very popular. But Amirbai also had two very popular songs, 'Milke Bichad Gayin Akhiyan' and 'O Janewale Balamwa' (with Shyam Kumar) sung for a dancer.
1945 - A memorable year
1945 films Amirbai sang for were, 'Amrapali', 'Chand Chakori', 'Chand Tara', 'Chamiya', 'Ek Din Ka Sultan', 'Ghazal', 'Ghar', 'Kul Kalank', 'Laila Majnu', 'Mazdoor', 'Panna Dai', 'Preet', 'Ramayani', 'Samrat Chandragupta', 'Sawan', 'Vikramaditya', 'Village Girl' and 'Zeenat'. She was the lead singer singing almost all songs of 'Amrapali' ('Ud Jaaon Re', 'Is Duniya Ki Pagdandi Par'), 'Chand Chakori' ('Jogan Banake Piya'), 'Chand Tara' ('Aaj Mera Man Dole Re') which were great successes.
The film versions of the songs in 'Ek Din Ka Sultan' were sung by Shamshad Begum while Amirbai sang the recorded versions ('Saza Naseeb Ne De Di', 'Garibon Ki Duniya'). 'Laila Majnu' was a famous musical based on the popular folklore originating in the Middle East, starring popular pair Swarnalata - Nazir, and several singers Amirbai, Zohrabai and Naseem Akhtar sang for Swarnalata.
'Zeenat' was another very famous film that year, starring Noor Jehan

;

Amirbai sang a fun - and - frolic swing song sung with Zohrabai and Kalyanibai: 'Aaya Aaya, Sakhi Aaya Sawan Aaya'.
Geeta Nizami in Gaon Ki Gori (1945)
The favorite voice for most her

oines
In 1946, she sang for 'Aath Din', 'Shikari', 'Arab Ka Sitara', 'Bhedi Dushman', 'Dev Kanya', 'Dulha', 'Hawai Khatola', 'Hum Ek Hain', 'Jeevan Chaya', 'Kamla', 'Qeemat', 'Kuldeep', 'Magadhraj', 'Maharani Minal Devi', 'Mera Geet', 'Nargis', 'Nek Parveen', 'Pujari', 'Kamra Number 9', 'Sona Chandi', 'Valmiki' and 'Wamiq Azra'.
'Aath Din' and 'Shikari' were debut films of great composer S. D. Burman and, singing the heroine's songs, Amirbai became his first lead singer, giving him superhits: 'Pehle Na Samjha Pyar Tha' (both in 'Aath Din'), 'Har Din Hai Naya' (Amirbai - Ashok Kumar), 'Duniya Ne Hamein Do Din' (both in 'Shikari').
She sang a popular Raagmalika (song made up of multiple Raags) 'Piya Milan Ko Janewali' for Shyam Sundar in 'Dev Kanya'. The fabulous duo of composer - singer Gyan Dutt - Amirbai made marvels again with 'Dulha' and 'Kamla'. 'Hum Ek Hain' was a musical masterpiece by first composer duo Husnlal - Bhagatram, Amirbai and Zohrabai combined to give memorable melodies: 'Na Jaane Mujhe', 'Wo Boli Koyaliya' (both by Amirbai), 'Meri Aayi Hain Teen Bhabhiyan' (Amirbai - Zohrabai). It is also the debut film of veteran actor Dev Anand, famous 1940s actress Kamla Kotnis ('Na Jaane' and parts of 'Meri Aayi' sung for her) and first leading role for then famous actress Rehana (parts of 'Meri Aayi sung for her), and Amirbai sang for both of the latter.
S. D. Burman
'Qeemat' had Naushad using Amirbai as lead singer ('Man Dol Raha Hai', 'Sagar Mein Uthin' (with Amar), 'Kanton Se Chedte').
'Nargis' was another Husnlal - Bhagatram classic with exquisite melodies, and Amirbai was par excellence giving hits for then young heroine Nargis, 'Aankhon Mein Aa', 'Roti Aankhon Mein Teri', 'Main Kaise Kahoon Tumse' and 'Mile Sahara Koi Re'. The second one has her truly melting our heart and also reaching the highest note fl

awlessly.
'Pujari' was composer Hansraj Behl's first film and as the lead singer she sang beautifully, 'Bairan Nindiya Kyon Nahin' (with A. R.

Oza)

, 'Nainon Ki Nagri' (with

Feroze Dastur

), 'Sanwariya Se Milaye' (with Hamida Bano) and 'Patanga Chala Hai' (with Oza).
Indo - Pak composer Rashid Attre had used an excellent variety of singers during his pre - parition career very vividly and uniquely, and composed for Amirbai in 'Kamra Number 9'. The lovely songs by this combination include 'Mera Rootha Baalam' and 'Jiya Mora Bal Bal Jaaye'.
'Sona Chandi' was one of the earliest films of Indo - Pak composer Tufail Farooqi and had a beautiful Amirbai - Rafi duet 'Man Ki Sooni Nagariya'. In 'Valmiki' she sang with maestro singing star Shanta Apte, a quad also including Zohrabai and Lalita, 'O Rani Dheere' and also with rising stalwart Manna Dey, 'Veeron Randheeron'.
Munawar Sultana in Elan (1947)
1947 - taking

soulful singing to greater heights
The next year (1947) Amirbai sang in 'Angoorbala', 'Beete Din', 'Bhakta Dhruva', 'Diwani' 'Flying Man', 'Elan', 'Hatimtai', 'Kaun Pardesi', 'Leela', 'Mera Suhag', 'Qismat Ka Sitara', 'Rangeen Kahani', 'Samaj Ko Badal Daalo', 'Samrat Ashok', 'Sarai Ke Bahar', 'Sati Toral', 'Shehnai', 'Sindoor', 'Toofani Takkar', 'Utho Jaago', 'Veerangani', 'Zinda Dil'.
She sang enchanting songs in 'Beete Din' for Rauf and Dinkar Rao ('Agar Tum Na Milte'), 'Diwani' for Gyan Dutt, 'Hatimtai' for Kumar ('Nazar Meethi Meethi'), 'Leela' C. Ramchandra ('O Preetam Pyare' and 'Main Jaanti Hoon Tum Na Aaoge'), 'Rangeen Kahani' for Feroze Nizami, where he proved that she was his favourite singer by giving her all songs! ('Man Baat Na Meri').
'Elan', 'Shehnai' and 'Sindoor' took her to the peak of her career. 'Elan' and 'Sindoor'

portrayed

socially significant issues about Muslim customs and Hindu widow remarriage respectively and were highly controversial.
Amirbai is splendid as the heroine's singer, giving superhits, 'Insan Ki Tehzib', 'Aaine Mein Ik' (both with Surendra), the high pitched

intense

'Allah Nigehban Tera' and 'Rote Huwe Aaye Hain' and 'Aayi Azal Ye Zindgi' all in 'Elan' and 'O Roothe Huwe Bhagwan', 'O Duniya Bananewale' and 'Koi Roke Use' in 'Sindoor'. She has truly highlighted the issues by aid of musical expression, leaving a

great

impact.
'Maar Katari Mar Jaana - video/ audio'
(video)
(audio)
by her from 'Shehnai' with music by C. Ramchandra was a chartbuster and her other two songs,
'Hamare Angna Aaj'
(title song, with Shamshad Begum) and
'Aji Aao Mohabbat'
(with Chitalkar) were superhits.
Amirbai Karnataki in Vidya (1948)
In 1948, she sang for 'Amar Prem', 'Bhakta Gopal Bhaiyya', 'Bihari', 'Didi', 'Ghar Ki Izzat', 'Gunsundari', 'Jai Hanuman', 'Khidki', 'Papiha Re', 'Raees', 'Rambaan', 'Ratan Manjari', 'Sati Vijaya' 'Shehnaz', 'Veena', 'Vidya', 'Yah Hai Duniya'.
'Amar Prem' had a beautiful duet of her and Rajkumari, 'Basant Chaya Charon Or'. As mentioned before, 'Ae Dard Zara Dam Le' was re-orchestrated by great composer Pandit Gobindram for 'Ghar Ki Izzat'.
A composing genius
Her composing genius was apparent in 'Shehnaz' for which she sang all songs, with the great Rafi. It is very surprising how such an excellent composer didn't compose for any more films. Her own composing - singing combination is truly superlative. Though the film was a flop, the songs were fairly popular: 'Mohabbat Mein Khudaya' (Amirbai - Rafi), 'Taqdeer Ne Hansake Hamein', 'Kuch Keh Na Sake'.
In 'Veena' she sang a heart - rending song, 'Dard Mandon Ka Jahan'. In 'Vidya' she did an important singing - acting role after a lapse of some years after being the top playback singer. The heroine was great singing heroine Suraiya and Amirbai played her tortured mother. Both of their songs became famous, Amirbai singing beautiful songs for S. D. Burman, 'Jeevan Jyoti...Prabhu Ji', 'Bhagwan Tere Sansar', 'Meri Muniya Ke Akhiyan Mein'.
1949 - A Turning Point
In 1949, Lata Mangeshkar had become famous with 'Andaz', 'Barsat' and 'Mahal'. Different vocal timbres were encouraged. The great singers of 1940s including Amirbai got lesser songs. Only stalwarts Shamshad Begum and Geeta Dutt continued to be famous even later.
Amirbai sang for 'Chandni Raat', 'Jeevan Saathi', 'Nanand Bhojai', 'Narad Muni', 'Neki Aur Badi', 'Parda', 'Raaz', 'Roop Basant', 'Sawan Aaya Re', 'Vikram Shashikala'. 'Saiyyan Se Bichad Gayi' sung with Sadat Khan from 'Chandni Raat' (music Naushad) was quite popular.
'Main Kaise Keh Doon' was a lovely duet of Amirbai and Rafi from 'Jeevan Saathi'. She was composer Roshan's first lead singer in 'Neki Aur Badi', singing for young Madhubala. The film was a flop but some songs were moderate successes: 'O Mere Chail Chabile', 'Chand Hansa Akash'. 'Sawan Aaya Re' had some famous songs, composed by maestro Khemchand Prakash. 'Main To Gawan Chali Hoon' sung for Sofia, the second lead and 'Sawan Aaya Re', the title song, sung with Lalita Deolkar and chorus for heroine Ramola were quite famous.
1950 - A second innings in acting
From 1950 onwards, Amirbai sang very few songs

although she performed supporting roles in a number of films

. The films of that period with her singing are, 'Chor', 'Janmashtami', 'Preet Ka Geet', 'Raj Mukut', 'Samadhi', 'Shadi Ki Raat', 'Veer Babhruvahan' (all 1950), 'Bikhre Moti', 'Ghayal', 'Jai Mahalakshmi', 'Lav Kush', 'Sagai', 'Sanam' (all 1951), 'Usha Kiran' (1952), 'Naghma' (1953 - version record), 'Shole' (1953), 'Maha Pooja', 'Mahatma Kabir' (both 1954), 'Silver King' (1956), 'Matlabi Duniya' (1961), 'Jisne Tera Naam Liya/Tere Dwar Khada Bhagwan', (1964) and a pre - recorded Thumri from 'Bankelal' (1972).
'Janmashtami' had some beautiful Bhajans sung in duet by Amirbai and Rafi: 'Sanwariya Bansiwala' and 'Murliwale Ghanshyam'. 'Samadhi' is the film with the famous Western popular-influenced duet of Amirbai and Lata, 'Gore Gore O Banke Chore' in which Amirbai simply excels singing playfully, composed by C. Ramchandra.
Her melodies in other languages
She has also sung for Gujarati films (like 'Sati Sone' - 1948), Kannada films, Marathi films ('Bhaktachi Mala' - 1944 as a singing star) and several other languages.
'Jeevan Ka Saaz' (1946), 'Bambi' (1947), 'Kamyabi' (1940s) are unreleased films in which she has sung. 'Jeevan Ka Saaz' had music by renowned classical music exponent Ustad Jhande Khan, who, realising the immensely talented classical singer in Amirbai, made her the lead singer. And the hit music speaks for itself, 'Ban Gaye Naina Badra Kaare', 'Sansar Mein Dukh Sukh', 'Tere Khayal Ko Chaha'. She has sung a very popular Gujarati Bhajan 'Vaishnav Jan To' which was a personal favourite of Mahatma Gandhiji. During 1940s, she also sang several popular Hindi film songs, mostly by Asha and Lata Mangeshkars in Kannada versions, as 'Bha

vageete'.
A major loss to the music world
On March 3, 1965 Amirbai had a paralytic attack and passed away, causing a great loss to India's music and leaving behind a rich legacy. Her music will always be heard and is most immortal.